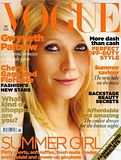 A horror movie, mixed with science fiction, has begun and, strangely, we're stuck inside it. Yesterday the tiniest incident woke me up to this fact.
Walking across Macy's, I saw Gwyneth. Her photo was one of the many used to sell makeup and promises of eternal youth. Gwyneth was perfect for the job. 
Who doesn't love Gwyneth Paltrow? Remember her from "Shakespeare in Love"? The Oscar-winning actress looked the same as ever, except a bit younger.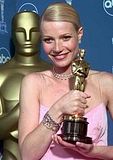 Only, wait a minute.  "Shakespeare in Love" was released in 1998. Why would it seem desirable, or even sane, for big glamour photos to show us this impossible face, complete with surgical erasures, as an enticement to makeup customers?