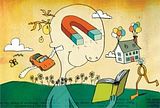 Every case of spiritual addiction has unique features. In today's post, you have the opportunity to learn more — very individual — ways that LOA volunteer teachers have been doing their very best. They have pursued a path that promised them prosperity.
Only they know if it works. However, it may not be a particularly good sign that these dedicated followers of Law of Attraction, Abraham-Hicks and/or The Secret are giving away their services by teaching free meetup groups.
This post shares what I learned by profiling 50 passionate believers on The Law of Attraction/The Secret as taught by Abraham-Hicks or Rhonda Byrne. My how-to book "Magnetize Money with Energetic Literacy" was based on extensive research. This is just a small part of it.
For more details about how this research was done, see the previous post about Law of Attraction volunteer teachers (including Comment #3.) That previous article shared Magnetize Money Profiles with 10 other volunteer teachers of Law of Attraction.
#11. Magnetize Money Profile, Scottsdale
Root Chakra Databank:
Earning Money
14 inches, doesn't like to work for it. Believes he deserves to have money, that's all.
Solar Plexus Chakra Databank:
Handling Conflict at Work
7 inches, muscles his way into solving problems his way
Third Eye Chakra Databank:
Connection to Spiritual Source
Out to sky, pulled by the fascination of beings like Abraham. CONTINUE READING →