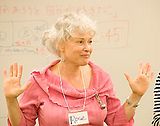 Recently we had the biggest drama yet at this blog. There was an adorable bunch o' comments at a newsy post about Latest stats about energetic literacy. We learned the "secret" identity of my first client and student and reader to become spiritually Enlightened.
Still excited about this, a thought occurred to me the next morning. Maybe some of you lurkers, or even regular Blog-Buddies, are offended at our having conversations about Enlightenment.
Sure enough, I opened up the Admin interface at my blog and found today's comment from a self-described "LURKER." She never had posted comments here before but courageously — and mildly — asked, in Comment 35: 
Perhaps the average visitor to this blog does not maintain the interest in Enlightenment that you do?
In your honor, LURKER, here are 10 reasons why you will find the occasional post devoted to Enlightenment at "Deeper Perception Made Practical."
1. You can
always

get an aura reading, empath merge, face reading from Rose Rosetree.

Of course aura reading, empath merge, face reading are available. At this blog, just type terms like these into the search box at the upper left column. CONTINUE READING →