January 28th, 2013 by Rose Rosetree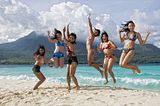 Fun! Thanks to Blog-Buddy GOWRI, Facebook now has a fan page for Rose Rosetree and Energy Spirituality.
Therefore, at the end of blog posts now, you have the option to click on LIKE. Then, pouf!
Apparently Facebook adds an exciting new number to the Fan Page. There will be some residue at your own home page at Facebook, which means you may be outed to others. Oooh! I know about this sort of thing because I have liked certain people at Facebook, and expect to continue liking ever more…
So liking is not for the timid.
"Deeper Perception Made Practical" already has buttons at the end of each post for linking to Slashdot, Digg, Reddit, del.icio.us, Technorati, Google, and StumbleUpon. Another thoughtful thing to do, if you wish, making that click!
How will this fan page work?
You can comment somehow, or simply click on LIKE. I can't experiment to find out really how to do the comments part. But apparently you can even add comments there.
I'm hoping that this fan page will introduce new folks to the blog, increasing entries to contests like our New Mystery Solving Face Reading Contest .
Plus I will receive more feedback, perhaps, about which types of post are most interesting to you'all. Lurking is great, but comments — and maybe this new Facebook Fan Page liking — are informative for how the blog develops. When I know what is fun for you, I can supply more of it, as all the topic areas in our column on the left are fun for me.
Questions and comments from newbies adds a distinctive kind of fun here, so I do invite you to spread the word about this blog to your personal collection of kindred spirits (whether they are into Facebook or not).
Meanwhile, you more long-term Blog-Buddies keep asking depth questions that are a delight to keep new knowledge a-flowing. For instance, a very cool question from Blog-Buddy DAVE in his Comment 5 at What does it take to evolve spiritually now?
That's gonna be my next blog post, the topic of spiritual integration. But for today, the theme is grassroots support of Energy Spirituality through technology.
One way I, personally, have evolved in recent years… is release of fears about using a computer, learning about software,  not understanding big picture when pushing buttons. Have filled up with the usual soul of Rose Rosetree expressing in the usual ways. Less STUFF, more integration, woo-hoo! That's what Energy Spirituality is all about.