Awakening does not necessarily mean Enlightenment. Since this topic has come up strongly in our ongoing thread about Enlightenment here at "Deeper Perception Made Practical"…  let's get practical.
Let's dare to bring definition to a mystical topic, highly charged.
Each of you Blog-Buddies may hold strongly cherished ideals around Enlightenment, self-realization, self-actualization, personal development, spiritual development, and a very popular term today: Awakening. (Or spiritual awakening or being spiritually awakened.)
Bring along self-authority as you read, Blog-Buddies, and don't feel shy about commenting below. Not that you'all tend to be. 😉
Here's a hint about the difference between Awakening and Enlightenment: Birthday cake.
As you know by now, I'm using my self-authority, too. Don't claim to stand for any group of people, impersonate the Oxford English Dictionary, or otherwise be holier than anyone. I do use and teach Energy Literacy, writing about it for Pathways Magazine; have facilitated many thousands of Aura Healing sessions of Energy Spirituality; have taught hundreds of thousands of people through my nonfiction books on cord-cutting, empath skills, etc.
Today, my client Gladys came for a Soul Energy Awakening Past-Life Regression. Initially her goal was "To move out the biggest Frozen Blocks standing in the way of Enlightenment." I told her that, although I do sessions officially as an Enlightenment Coach, really every Energy Spirituality session ultimately serves the goal of Enlightenment coaching.
This came as a relief, and Gladys quickly found a more specific goal for a past-life regression that was wild! And wonderful!
Gladys also had no idea of the difference between Awakening and Enlightenment, so I dedicate today's post to her.
What is Enlightenment?
Enlightenment is a stabilized, habitual state of consciousness with certain characteristics that would be easy to identify for someone with Stage Three Energy Literacy:
All of a person's chakra databanks are working well.
These chakra databanks are pretty balanced, relative to each other.
Not a single chakra databank contains significant amounts of STUFF. (Stored emotional or astral debris at a level corresponding to the subconscious mind.)
Connection with the Divine permeates that person's aura in some way.
A degree of joy is included in the Divine connection.
Householder Enlightenment is different from Renunciate Enlightenment. Qualities of devotion may be emphasized (as with Holly Holm, the latest addition to my Enlightenment Life List). As with Bernadette Roberts, qualities of austerity and detachment might prevail.
Variations within Enlightenment, such as these, are entirely different from the wide range of experiences called "Awakening."
Incidentally, it is possible for Enlightened people to lie (or do worse) and still maintain that STUFF-free kind of grace in their auras. An example was discussed when Rick Archer interviewed me about Enlightenment, one of my favorite parts of the interview.
What is spiritual awakening?
The person has had at least one experience that seemed spiritually significant. That includes:
Anyone who became a Born-Again Christian after feeling something inside (in contrast to someone who stepped up to the altar based on social pressure or was pretending for some other experience to claim a Born-Again experience).
Anyone who has had a peak experience, as described in "Varieties of Religious Experience"
Anyone who is self-actualizing, compared to those motivated mainly to survive
Anyone who had a nice experience with meditation or prayer. Once. Or more than once.
Someone who feels spiritually more awake. Compared to what? Anything.
Granted, Enlightened people may prefer the term "Awakening" due to being disgusted with behavior in communities where people aim for Enlightenment.
Or it could be a personality style. As with Jeff Dixon, definitely Enlightened by my criteria, yet having huge fun with iconoclastic writing that is purposely politically incorrect, so it's no surprise that the witty writer prefers the term spiritual awakening.
Enlightened Auras Read at this Blog
Blog-Buddies, we have had many blog posts where I facilitated some aura reading or Skilled Empath Merge to let you'all experience Enlightenment in some of its wonderful variations.
Check out these blog posts for examples of auras in Enlightenment:
Colin Firth, Oscar Nominee #8 of 10
Aura Reading Enlightened Betty Ford
Aura Reading of Enlightened Josh Groban
Aura reading of Ellen DeGeneres coming out as a lesbian
Nah Kin, Aura Reading of an Enlightened Mayan Healer
Skilled Empath Merge with Hillary Clinton
Meryl Streep, Aura Reading of Oscar Nominee #5 of 10
Awakened, not Enlightened
By contrast, let's do a bit of aura reading research on a professional teacher of Awakening, Inelia Benz.
There is no need for me to describe her in detail when a very full explanation of her specialness is at this link explaining her Awakened status and qualifications for teaching at the Awaken Academy.  Highlights, according to her bio there, include:
This is her first incarnation in any planet.
Ms. Benz is completely free from self-importance, attachments, or personal agendas.
She has developed tools used by hundreds of thousands of people to achieve personal ascension.
I'm especially struck by the language in that third claim. Tools that weren't just used by hundreds of thousands of people to pursue personal ascension but, apparently, Inelia's done deal for all of them? Interesting!
I don't see a definition of "ascension" or "Awakened" at her bio, but I sure see a gorgeous photo of a remarkably attractive woman. Let's use that photo as the basis for reading a sampling of chakra databanks.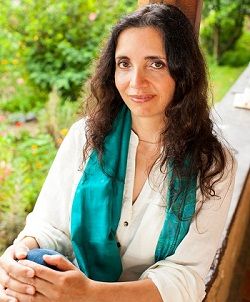 Aura Reading Root Chakra Databank for
Connecting to Physical Reality
Gift of Inelia Benz's soul:
Sensuous. Strong kinesthetic learning.
Size and quality of this chakra databank at the time of this photo:
27 feet. Enjoy physical reality. A terrific appreciator of the physical senses. Undercurrent of being annoyed by people and events; stored STUFF in the form of frustration. (Of course, let's remember that STUFF can always, always, always be healed.)
Aura Reading Solar Plexus Chakra Databank for
Solving Problems
Gift of Inelia Benz's soul:
A wonderful confidence in her own wisdom.
Size and quality of this chakra databank at the time of this photo:
7 inches. Finds one solution and sticks with it.
Could be called stubborn. Lack of interest in other points of view, while projecting emotional warmth and complete peace with herself.
Ordinarily, I don't inject the concept of soul age into my interpretations of chakra databanks, but since she is evidently quite insistent on her certainty that this is her first incarnation on any planet, this tendency to solve problems with one try only might perhaps be linked to a youngish soul age.
Aura Reading Throat Chakra Databank for
Verbal Integrity
Gift of Inelia Benz's soul:
Highly persuasive about what she believes. Able to generate contagious enthusiasm for what she says is true.
Size and quality of this chakra databank at the time of this photo:
1/8 inch. Verbal integrity is in shutdown.
However, Inelia does feel special and privileged. She feels no need to following standards about communication set by other people. Her sweet serenity is very impressive.
Aura Reading Third Eye Chakra Databank for
Connecting to Spiritual Source
Gift of Inelia Benz's soul:
Full-bodied, very sensuous connection to the Divine.
Size and quality of this chakra databank at the time of this photo:
5 inches. Certainty. Mystery solved!
Humble! Grateful! Absence of curiosity!
It's all settled, and I own the secrets!
So happy to help people because Truth seem so difficult for them. Yet knowing the total Truth is so very easy and special for me!
So what is the difference between Awakening and Enlightenment?
Quite a lot.
Imagine a photo of an enormous birthday cake, lit with hundreds upon hundreds of glowing chakra databanks.
I mean candles.