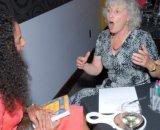 Just because you have something to say doesn't mean you necessarily have oodles of time to build and manage a blog. Let me offer you a short cut. When you have aha's! about deeper perception, let me host your comments. Send me your post.
rose [type symbol for at] rose-rosetree.com In the subject line, put "Guest Post."
After reading your guest blog creation, provided that I think blog readers would enjoy it, I will post it right away, then notify you.
Include your website, if you have one. I would love for you to get some Google juice.

Also, if you have a head shot (small-sized jpeg only, please), send me a link to it. (That link is what I would need to post it anyway, at my present skill level.)

If you do have your own blog, guest posting is a way for you to start a new stream of conversation introducing you to this community. Post in both places. Why not?
Please do read the rest of our Ground Rules pages before submitting your posts. And note that I will exercise my discretion over selecting which posts make it onto the blog. Tirades, shameless plugs, etc. are not invited. But you already knew that, right?
Some of the biggest fun with Deeper Perception is the stories, so let's hear yours. Be my guest!
Note: The photo here comes courtesy of Sergykal Studios.