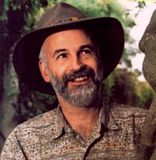 Amanda wrote the magic words in her nomination during our Aura Reading Contest, Celebrating Humor. In Comment 8 she grabbed my attention this way:
[Terry Pratchett's] Discworld novels have provided me with more pleasure than even Hogwarts, and in very much the same way: they are human, humane and humourous, and what a world he's created for his readers to enjoy!
Could such a thing be possible? More pleasure than even Hogwarts, with all the Rowling plots and characters?
Wow, I'll be checking out Pratchett's read-gasmic potential and brainy insights at my next library trip, for sure. Before moving into the aura reading, here's the rest of AMANDA's highly persuasive contest entry:
Nothing bad ever happens in a TP book. Even when people die, it's OK – Death turns up, but he's one of the main characters and as loveable as the rest of them.
I've been a fan for years and he's provided me with a lot of joy: the best comic writer I've ever come across, and fortunately wonderfully prolific. CONTINUE READING →