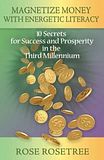 As you prepare for that merry month of December, Blog-Buddies, here are a few practical tips to get the most from the Magnetize Money Program (in Magnetize Money with Energetic Literacy) and the rest of this blog:
1. Take that quiz before the answers come out.
Some of you have already been experimenting, and commenting here, about the Cult Recognition Quiz. It's much more fun to do the quiz before answers come out.