Now that was a lifetime! Before Betty Ford's incarnation ended at age 93, she had inspired the nation more than most presidents. People joked about the clumsiness of her husband, President Ford (a former athlete who wasn't really clumsy at all). For generations, people would deate whether or not they thought Gerald Ford made a mistake in pardoning President Nixon. But First Lady Ford was almost universally admired, a true Republican hero who combined conservative values with common sense.
What did I learn about Betty Ford, just finding photos for today's commemorative venture into energetic literacy? For starters, I discovered her snazzy full name: Elizabeth Ann Bloomer Warren Ford. I loved reading about her life story, including the fact that she bore and raised four (!!!!) children. Clearly a brave woman. 😉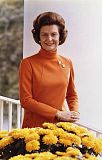 If you lived through this historical period in America,  there's one thing you are sure to know. In 1978, the Ford family staged an intervention and forced Elizabeth Ford to confront her alcoholism and an addiction to painkillers that had been prescribed in the early 1960s for a pinched nerve. She didn't just overcome the public humiliation, she didn't merely go into full recovery. Beyond that, as you probably know, she founded the clinic that bears her name. She continued to be active in the cause of recovery. Has any American First Lady ever been more influential… until Hillary Clinton?
But my favorite amazing detail predated Betty's marriage to Gerald Ford. Perhaps you knew she was married twice. But did you know this?
The former model's first husband, the "Warren" in her long name, was an alcoholic. According to Wikipedia, just after Betty decided to file for divorce, Mr. Warren went into a coma. She took care of him for another two years as he convalesced. When they were finally divorced on September 22, 1947, the grounds were "excessive, repeated cruelty."
Could she have spent the rest of her life feeling sorry for herself? Was that long two years going to be her life's grand gesture?
Nooooooooooooooo, it was followed up by public acts like honestly answering questions like "What would you do if your daughter were having an affair?" And her going public with the diagnosis of breast cancer and her mastectomy, a major precedent before The Age of Oprah. Betty Ford made fearless use of her clout as First Lady in every way that could help the American people.
Back when she married Husband #2, how much strength did Betty Ford have in her? The change was almost unbelievable, an inspiration to us all.
How did she grow after years as First Lady, as a breast cancer survivor, as The inspiration behind The Betty Ford Clinic? That's what I aim to explore  in today's comparison aura reading.
Technical preface, preamble, etc. to today's aura reading
For technical details about reading auras from photographs, Stage Three Energetic Literacy, chakra databanks, why energetic literacy is different from doing a psychic reading, etc., turn to this previous aura reading of Liz Taylor.
Then read along with me, if you like. Use these two links to open up each photograph. Then read it with more ease by copying the photo and enlarging it. For the first photograph, click on this link for Aura Reading Betty Ford at 93.
I'm going to include a colorful photo with chrysanthemums, taken when Ms. Ford was 56. Doing her job to be a model American wife in 1974, this was four years before the famous intervention. Here's a link you can use for Aura Reading First Lady Ford. A better quality link, though less dependable, I will call "Aura Reading Ford, Take Two."
While the other picture used here is the one in bridal costume, Aura Reading Betty the Bride.
For a higher quality photograph, with a link that may or may not endure, check out the link I'll call "Betty's and Gerald's Chakra Databanks Show Here."
Note: Over time, links can go bad. And legally I don't have the rights to show celebrity photos, so I can't display them here other than providing links. But you can easily go over to Google, type in the person's name and the blog post date, then search on images.
Root Chakra Databank:
The Reality She Lives In
9 inches.
Betty likes things just so. Pretty, pretty. That's how she wants her life to be now.
She doesn't want to have to think deeply. She doesn't want drama or pain. She just wants happiness as part of a pleasant reality, something very different from what she has had recently.
25 feet.
Well, here's a surprise for me, Blog-Buddies. Not only was I pleasantly surprised with this first chakra databank, but I went on to do a quick survey of others. Sure enough, here is another great name to add to our Enlightenment Life List. Woo-hoo!
The first amazement here, to me, is the peace. Second is the flow in how Betty now handles life situations. Third, clobbering me like a blow to the head — though far nicer — is the ineffable joy that I have come to recognize as the usual auric signature of Enlightenment.
Solar Plexus Chakra Databank: Handling Conflict in Personal Life
8 inches. Not nearly as confident as she looks, the former model is riddled with unresolved pain, much of it related to blaming herself for having suffered. There's also a huge desire to avoid conflict at any cost, with entrenched habits of denial.
Recently at this blog we profiled interior designer Barbara Barry, who creates art in people's homes and has a huge passion for beauty. This passion comes from a consciousness where stories she tells herself are about beauty, competence, succeess. Many a person attracted to beauty — whether looking good or keeping the home or car "just so" — uses the physical perfection as a kind of defense system.
That is the case with Betty Ford's power circuits for handling lonely forms of pain, at least as we meet her at this tricky time in her life.
19 feet, bigger if needed
If one thing in life cracks her up (okay, just about everything in life seems hilarious to this woman by now), conflicts among people she knows are absoloutely a laugh riot by now to Betty Ford.
Not that she necessarily shows it, but all conflicts and trials and confusions seem to her like a road to God. Who is everywhere.
So when people she loves go through their anguish about what to do? what to do?… deep down she's smiling. Everything is going to work out just fine. That's her relishable secret.
Solar Plexus Chakra Databank: Handling Conflict in
Public

Life

19 feet. Oh, how she loves that new husband of hers. One of the reasons is exactly this, his courage in public.

He knows how to face people, how to act tough. He feels competent, deep down.

(How does Rose, the aura reader find info. like this? Because her feelings about this husband have been appropriated as her very own sense of talent for handling conflict in public. In this databank, as in many others, she is living through her man.)

14 feet, bigger if needed

People are delightful. They are utterly delightful. If they are involved in conflicts, it's so cute how they act.

Betty has noticed plenty in the conflict deparment. She has found an authentic way of being present, if help is required.

For the founder of The Betty Ford Clinic, a lot of learning has involved acertaining when NOT to help, because help is not really required.
Solar Plexus Chakra Databank:
Power Integrity
Following through on what she promises: For now, 4 inches.
Betty wants to lean on her strong man, let him do all the hard parts of life from now on.
Doing the right thing, we know biographically, has recently consumed two long, long years of her life. She's finished! She never, ever wants to go through anything that tough again. Scar tissue in this chakra databank suggests to this aura reader that the former Mrs. Warren feels emotionally and spiritually exhausted from "doing the right thing."
Although she has grown enormously through her honorable actions up to this time, as shown in this fresh (but not yet healed) scar tissue, Betty doesn't know about that part. She only knows she has been through a huge, unfair ordeal. Now this good man has come into her life, and he's going to protect her.
19 miles, larger if needed.
Of all the hilarious things about people — and oh, there are so many — one of the most hilarious is observing how people follow through. She loves doing it herself. Taking action is delicious.
Heart Chakra Databank:
Emotional Self-Awareness
7 inches.
Not really. There isn't much ability to be in touch with her true emotions, not yet. She's doing the sort of buy-into-fantasy of many women of her time. If you followed our series on Liz Taylor, you read about this mindset.
Heck, if you had my mother you heard plenty about this. Maybe you heard it from your mother, too.
The very idea of paying honest attention to her own emotions seems irrelevant. This chakra databank attests to the desire for a kind of transfer of property. Her feelings belong to him. His feelings matter. She exists to be a good wife.
Very simple. Very reassuring.
Perfect, really, for the child of an alcoholic who had served a husband who also drank. Perfect for that karmic setup where she would, eventually, have the chance to try out a very new way of living. But emotional self-awareness right now? Not by a longshot, not yet.
15 feet, bigger as needed
Emotions seem simple to Elizabeth. They are a universal vocabulary for understanding anyone's motivations.
No, emotions will never be her specialty as a human. She isn't particularly interested in them, not nearly as most women are. However, unlike most women at present, the former first lady has emotions inextricably mixed in with the loving joyful presence of God. Which makes all emotions delightful to observe, even her negative feelings.
Throat Chakra Databank:
Verbal Communication in Public
5 inches
There's good reason this woman has been a model rather than an actress.
Shyness in public is part of it. Also, verbal nuances, dealing with controversy, justifying how she feels — these don't come easily to her. She would much rather speak in the usual phrases that are popular at the time. And what would she prefer over that? Being MRS., and letting her husband do all the talking in public-type situations!
In her private communication, that's different. There she can be outspoken.
Fills the room. Perfectly.
Speaking stirs up the mighty presence of God and spills it over. Speaking in public is a form of service.
Of course, everything is a form of service, a kind of play, a delightfully self-conscious co-creation with the Divine.
High Heart Chakra Databank:
Expressing Soul in Everyday Life
Some mild soul thrill is present, but mostly this divorcee feels relief. Her life can be stable again. This is a good man.
Every couple has one who loves more. I think it's related that, in this wedding shot, GROOM'S soul thrill projection at the third layer goes out for miles of vivid exuberance and enthusiasm. While BRIDE'S soul thrill projection is a perfectly respectable two feet of relief and contentment.
Fills the room
Like a purring cat, Betty Ford's soul lives in peace.
At the end of a lifetime, where typically a person (soul included) doesn't experience Enlightenment until after rejoining the angels, the typical condolence statement is "Rest in Peace."
Wouldn't it be more fun, if possible, to live very actively in peace, the way Betty Ford learned to do?
Conclusion
Betty Ford's aura, post Enlightenment, could be recommended reading for many of her fellow Republicans. Make that "fellow humans."
So many people try to be detached because it seems like a "more evolved" way to be. Actually, trying to force detachment or neutrality holds people back. If you find this puzzling, I invite you to do a short aura reading of Betty Ford or, if you can, a Skilled Empath Merge.
Notice the joyful, even blissful, way this woman has learned to be alive. Conflict and problems do not touch her, but not because she holds tightly to anything. Let go and let God?
Betty learned how to do something better: Wake up and BE God.