Miracles and everyday healings, both, result from cutting cords of attachment. In my opinion, cord-cutting is the single most powerful technique —  and universally helpful technique — available today for healing STUFF.
"STUFF" in Energy Spirituality means "Astral-level debris, real solid matter at that psychic level. "
And that level corresponds to your subconscious mind, which is a big deal when you think about it.
Granted, as an aura healer who uses Energy Spirituality,  I refer only to emotional and spiritual healing, not to physical healing in mind-body-spirit practices.
Probably I have facilitated cutting more cords of attachment, in a quality way, than any other practitioner alive. I turned pro in 1986. Over the 26 years that followed, I have gathered enough word-of-mouth reputation to have a wonderful base of long-term clients, plus a steady flow of new clients. So I do over 1,000 session hours per year, and the majority of my sessions of Energy Spirituality do include cord-cutting.
As appropriate. It is definitely NOT appropriate to cut a cord of attachment in many situations. In my August newsletter I explain why.
Today's post is a placeholder for your comments in response to the (maybe controversial) article in the newsletter.
To sign up for my free monthly newsletter
It's easy. And I'm delighted to promise you, no spam. Never.
We don't violate personal privacy by sharing email information, and the service we use for distribution is reputed to be very secure. This seems especially worth mentioning during heavy duty election season. Have you also been getting robocalls like crazy? Grrrrr.
Hello, I read news from reputable sources like "The Washington Post." I don't need someone to call up to influence me, or spend obscene amounts of money trying to make up my mind for me.
Oh yes, and I never miss an election, either. Ha ha!
Anyway, to sign up for "Reading Life Deeper," just scamper over to The Official Rose Rosetree Website. Scroll down a bit and you'll find the easy way to subscribe.
Note about the photo at the top of today's post
This photo is a souvenir of an Energy Spirituality workshop I gave years ago. What do I especially appreciate about this picture?
Check out the woman standing in back of me, looking not unlike a very groovy angel, protecting me.
That's JULIE, the first of my students and clients to officially become Enlightened. (That I know of.) For years, JULIE volunteered to coordinate all my workshops, and did a superb job.
Also in this photo is GAIL GLASSMOYER, to the right of me in the little front row. GAIL also volunteered for years to coordinate my workshops. Big, big gratitude to this enormously sweet walking heart!
All this volunteering happened before my husband, Mitch Weber, started working full time on the family "business." (To us, it's not mostly a business, though we depend on it for our financial livelihood. It is more a labor of love and a spiritual calling.)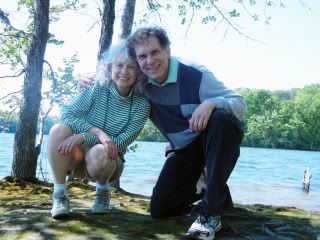 BTW, here is a rare photo of Mitch from last spring. (He's not usually one for pictures.)
It may be a few days before Mitch formats and sends out this newsletter, but it's on the way!