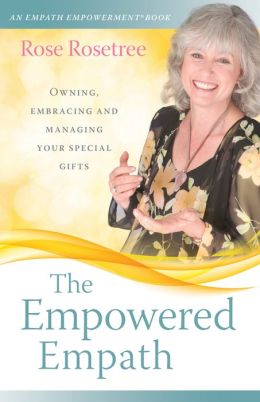 Yes, today is Happy Birthday for a pair of twins.
On May 19, 2014, both how-to books for empaths are officially being published in their first ebook editions.

To start reading, purchase each ebook as a Nook edition. The links are below.

Unfortunately, Nook is not available for sale in most countries outside the U.S. Other editions — like Amazon Kindle — WILL be for sale internationally but take more fiddling with technically. Soon as more ebook editions are available, I will let you know for sure, Blog-Buddies.

If you can purchase a Nook edition from Barnes & Noble, as an ebook, you're good to go. Especially at the end of today's post, you will find some easy ways to read these Nook editions on your computer, smartphone, or tablet. Easy-peasy.

I'm also working on formatting for the paperback editions, which will have the easiest accessibility yet of any of my books, being Print-on-Demand editions through both Ingram and Amazon. More on all that as soon as it happens. Rest assured, I'm using every available minute on these other editions… every available minute and then some.
Introductions, first, to this new pair of books to help every empath enjoy a much better life.
Empath Empowerment Book #2 is The Empowered Empath
And what's the full title of this easiest, most powerful, first book for every kind of empath?
The Empowered Empath:
Owning, Embracing, and Managing Your Special Gifts
Buy it here! This is the first Empath Empowerment® Book to add to your personal first-aid kit — I mean, set of reading materials.
It is a big advancement over Empowered by Empathy, the first book in English for empaths. (Now out of print.) The Empowered Empath is far more sophisticated, with depth, compared to Become The Most Important Person in the Room.
BECOME is still such a practical, helpful book for developing Empath Empowerment. But wait until you get a load of this new one, deeper and more comprehensive, and by far the best start for new empaths (in my opinion).
The Empowered Empath: includes detailed descriptions of 15 different empath gifts. And so much practical information. Just look at all these techniques:
Techniques Designed for Empath Empowerment(R)
Hey, You. To Become Conscious of Your Consciousness. Chapter 36
I Like. Breaks the Power of Identification with Other People. Chapter 37
Install an Automatic Subconscious Alert. Use Breath and Eyes To Jog You Out Of Prolonged Unskilled Empath Merge. Chapter 38

Introduction to Vibe-Raising Breaths

. Become More Present, Awake, Relaxed. Chapter 39
Introduction to Grounding Breaths. Release Stress. And Maybe You Will Also Become More Physically Aware. Chapter 40

A Human-Reality App for Grounding Breaths

. Transition Wisely from Spiritual Practices, Preventing Unskilled Empath Merges. Chapter 41
Get Big. Learn How to Make Divine Connection Effective and Effortless. Chapter 43
Empath's First Aid. How to Remove Imported STUFF. Chapter 44
Coming Home. The Single Most Important Way to Improve Life for Any Empath. Chapter 46
The detail page for The Empowered Empath, with ordering information and a full Annotated Table of Contents, is here at the Official Rose Rosetree Website. Yes, you can be one of the first in the world to enjoy this new book. 🙂
Because the info is still so new, here is how to see it display properly at www.rose-rosetree.com — open that up and then REFRESH the page. (It's a browser sorting-things-out process, apparently.)
Empath Empowerment Book #2 is The Master Empath
Or, to use the full name…
The Master Empath:
Turning On Your Empath Gifts At Will – In Love, Business And Friendship
(Includes Training In Skilled Empath Merge)
Actually, that last part is an understatement, Blog-Buddies, saying that this book for empaths "Includes Training in Skilled Empath Merge." Ha!
Nobody, anywhere, has ever presented so many detailed for purposely, powerfully moving into a depth experience of Otherness.
It is very important that first you read The Empowered Empath. Then have yourself a ball doing the most advanced techniques ever — and loads of them — with so many practical applications.
The detail page for The Master Empath, with ordering information and a full Annotated Table of Contents, has just gone live at the Official Rose Rosetree Website. Yes, you can be one of the first in the world to enjoy this new book.
Here is a summary of the techniques and energetic workarounds you will find (exclusively) in The Master Empath.
Table of Energetic Workarounds and Techniques in The Master Empath
What is an energetic workaround? It is a significant way to overcome problems.
By comparison, tips and coping methods are more superficial. A fully realized energetic workaround will re-orient your awareness, causing you to use your empath gifts more effectively. An energetic workaround can even change your life.
Admittedly an energetic workaround designed to help empaths is less powerful than a dedicated technique designed to help empaths, bringing the power to transport and transform your consciousness. Below you will find both!
20 Daily Minutes of Far-Out Technique Time, Tops. The simplest way to avoid — or heal — spiritual addiction. Chapter 3.
Re-Insert Yourself into Reality. An energetic workaround that could save your job. Chapter 3.
Conflict Solving without Empath Merge. Prevent unskilled empath merge triggered by conflict. Chapter 5
Set An Intention. Position your consciousness in a productive direction. Chapter 7
I Want To Hold Your Hand. Rose's favorite technique for Skilled Empath Merge. Chapter 11.
Deep Listening. Gain insight by exploring your partner's Heart Chakra. Chapter 12
Emergency Disconnect from Skilled Empath Merge. Energy hygiene on demand. Chapter 12.
Moccasins. Depth experience of someone else's life — of course, you get to choose which someone you will be researching. Chapter 13.
Taste Someone Else's Reality. Amazing insights await you about primal trust. Chapter 14.
Find Your Truth Sight Research Tool. You'll never need glasses for 20-20 wisdom, thanks to this technique. Chapter 15.
Shallow Up Quickie. Such an easy energetic workaround for positioning consciousness back at regular, human frequencies! Chapter 15.
Self-Discovery with Truth Sight. You don't need a magic mirror from Hogwarts to have fun with this technique. Chapter 16.
Another Super-Easy Way to Turn Empath Gifts OFF. Here's a fabulously effective energy workaround you can use just about anywhere in the world. Chapter 16.
Truth Sight For Advanced Empath Merge. This visual technique provides quick entry into the experience of being your chosen "Discovery Person." Chapter 17.
Incognito Truth Sight. Leap into skilled empath merge with just about anyone in the room with you. Chapter 18.
Truth Sight for TV. An amazing form of Remote Empath Merge that piggybacks on your prior experience at watching television. Chapter 20.
Locate A Handy Tool For Remote Empath Merge. Learn one more technical skill to help you become a Master Empath. Chapter 21.
Truth-Touching Empath Merge with TV. And you thought that, previously, you saw something on TV that touched you? Ha, surfacey by comparison! Chapter 22.
Remote Empath Merge through a Photograph. Even a muggle can make photos move in this way, provided that you're the kind of non-wizard who is a skilled empath. Chapter 23.
Simple Use Of Your Consciousness Elevator. Ancient yogis would have loved to learn a technique like this one. Chapter 24.
Even More Amazing Access to your Consciousness Elevator. Now that's really big freedom to fly in spirit! Chapter 25.
Locate and Ask. Discover how a process-oriented thought is enough to rock an empath's world. Chapter 27.
Consumer Research Through Empath Merge. Do a right-sized job with energetic literacy, rather than some crazy-making perfectionism. Chapter 31.
Darshan Merges With Professional Athletes. If you enjoy watching sports, you're going to love this technique. Chapter 32.
Professional-Level Skilled Empath Merge. How you can, literally, do empath merges like a pro. Chapter 33.
When a Master Empath Turns Movie Critic. The best actors in the world change in ways that only a skilled empath can fully savor. Chapter 34.
Why Start with Just an Ebook Format?
Blog-Buddies, after so many months of writing and editing, golly! I wanted to get these books published already. So many of you are hungry for this leading-edge information. Ebooks do have the advantage of speedy "printing."
The Nook edition came first because Barnes & Noble is the only truly publisher-friendly ebook provider I've found. The Empowered Empath did go live today and soon The Master Empath will go live as well. I'll update this blog post just as soon as I find out.
The other ebook platforms will follow as soon as I can get them going, including Amazon's Kindle.
Then I will make paperback editions available, as well. More details to follow. For now, I'll just say that plans are to make these new empath books available way more conveniently for you readers in Europe and Australia.
How You Can Start Reading a Nook Edition of My Books on Your Computer, Smartphone, or Tablet
All Nook editions by Rose Rosetree can be found through this empath's ebook link.
To read a Nook book without having to get a Nook device, you can download a free app to your smartphone, tablet, or PC.
Here's the link to download Nook on your Mac: http://www.barnesandnoble.com/u/nook-for-mac/379003592/
Nook for PC: http://www.barnesandnoble.com/u/nook-for-pc/379003591/
Nook for Windows 8: http://www.barnesandnoble.com/u/nook-for-windows-8/379003757/
On your smartphone or tablet, just look up "Nook" in the app store.
Some Nook books are also available to read right in your browser, without having to download an app. That's even easier — you just buy the book through the Barnes & Noble website and start reading. I guess we'll see if that's an option today!!!